ALMiG Screw Compressors
ALMiG Variable Series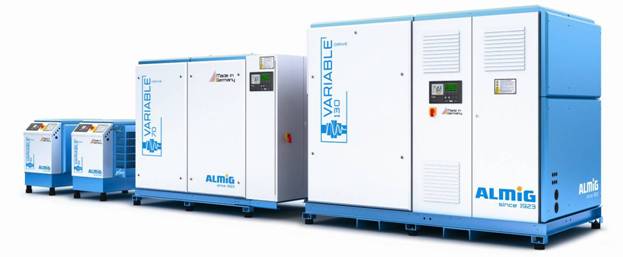 The ALMiG VARIABLE Series is a single stage, speed controlled, rotary screw line of compressors. Dating back to 1999, ALMiG was one of the first manufacturers of compressors to introduce variable speed technology. Combine that innovation and knowledge with the latest technology and research findings and you have the specially developed ALMiG VARIABLE Series. This series is perfect for applications where compressed air needs vary.
The average compressor usage is roughly 50-70% except at peak usage so a variable speed compressor will not cause unnecessary wear on your equipment and allows you to save on maintenance and energy costs. In response to this, ALMiG developed SCD (Speed Controlled, Direct drive) technology that allows the compressor to work their best exactly where it should; the partial load range. This variable speed drive regulates both flow and pressure by adapting motor speed depending upon the necessary load. This combination creates an extremely efficient compressor that could save you up to 35% in energy cost alone.
Protection of your equipment and necessary maintenance are important considerations as well. The ALMiG VARIABLE Series has many features designed for protecting the equipment such as soft starts and stops. A built-in shaft power monitor and a unique Load Curve Protection protect your process by immediately detecting any situation that could cause inefficiency or damage. This allows for early warnings and safety stops that assist with preventative action. If a problem does occur, a full status report is generated so corrective measures can be taken as soon as possible.
Features
Single stage
Oil-injection cooling technology
TEFC, VSD asynchronous motor
Compact build
Radial ventilator
General technical information
Power rating: 20 - 480 HP
Pressure: Up to 190 PSI(g)
Flow rate: 41 - 1976 CFM
Details
Unit manufactured in accordance with ASME, OHSA and CE standards
Vibration-isolated (compressor assembly isolated from base frame), fluid-tight base frame
Sound insulation with dirt-repellant lining
Integrated electrical control cabinet
VSD direct power transmission to the air end through a flexible clutch
Safe, fully unloaded start-up using ALMIG intake regulator with intake filter
Oil separator reservoir for optimum pre-separation
Oil separator cartridge for high compressed air quality with low residual oil content
Large-area cellular radiator for oil and compressed air cooling and low compressed air outlet temperature
Radial ventilator for optimum cooling
Separate cooling air ventilator drive
Emergency stop (Controlled by main switch)